The 24th Asian Technology Conference in Mathematics
(ATCM 2019), December 15-19, 2019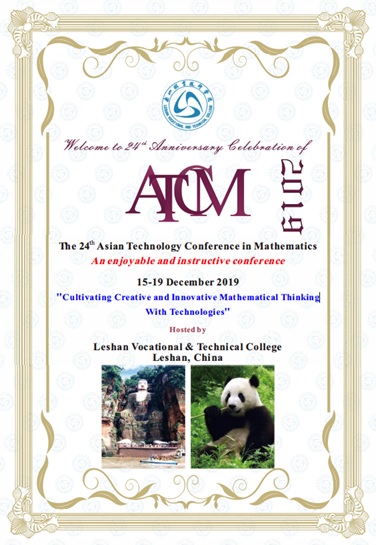 Leshan Giant Budda is a UNESCO World Heritage Site. Chengdu is known as a city of pandas.
A welcome video
of ATCM 2019 can be found
here.
News
(Hot Press July 30, 2019) We will launch the first students-centered program at this ATCM. Please visit this page for more information.
(June 17, 2019) Due to many requests, we have extended the deadlines for the tracks of `Abstract only', `Hand-on workshops' and `Poster sessions' to August 15, which will be the final deadline. Please kindly spread the words and encourage your colleagues to join us. We provide group discount rate if you have 5 or more participants in your party.
(June 17, 2019) A web-based online learning on geometry developed by Chinese scientists will be showcased.
(June 9, 2019) The tentative program outline can be found at this link.
(May 31, 2019) This is is a gentle reminder that the deadlines for submitting an abstract or a full paper is June 15 and July 30 respectively. For more information, please visit the page of `call for submissions'.
(May 31, 2019) We have selected the official hotel for ATCM 2019 to be the five star Grand New Century Hotel in Leshan, which costs 400 CNY (about 60 USD) per room per night. The cost includes taxes and fees, breakfasts and internet access. For more information, please visit the `registration' page.
Leshan Giant Budda is a UNESCO World Heritage Site. Chengdu is known as a city of pandas.
(April 23, 2019) We have posted the tentative list of invited speakers as of today.
(April 6, 2019) The host of ATCM 2019 was honored to receive a visit by Her Royal Highness Princess Maha Chakri Sirindhorn of Thailand on April 8 of 2018.
(April 6, 2019) We are proud to present that the host of ATCM 2019 established an Memorandum of Understanding (MOU) with Suan Sunandha Rajabhat University Bangkok, Thailand in 2015, thanks to the connection provided by the founder of ATCM, Professor Wei-Chi Yang.
(December 14, 2018) Thanks to everyone's efforts, we attracted over 300 participants representing over 20 countries for ATCM 2018. Video clips can be found at found as follows: video 1 , video 2 (amended December 14, 2018) .
A brief history of ATCM can be found at this link.
A brief history of ATCM in Chinese can be found at this link.
Conference Theme
"Cultivating Creative and Innovative Mathematical Thinking With Technologies "
The
ATCM 2019
is an international conference to be held in Leshan, China, that will continue addressing technology-based issues in all Mathematical Sciences. Thanks to advanced technological tools such as computer algebra systems (CAS), interactive and dynamic geometry, and hand-held devices, the effectiveness of our teaching and learning, and the horizon of our research in mathematics and its applications continue to grow rapidly. The aim of this conference is to provide a forum for educators, researchers, teachers and experts in exchanging information regarding enhancing technology to enrich mathematics learning, teaching and research at all levels. English is the official language of the conference. ATCM averagely attracts 350 participants representing over 30 countries around the world. Be sure to submit your abstracts or full papers in time.
Topics of Interest
The conference will cover a broad range of topics on the application and use of technology in Mathematics research and teaching. These include, but are not limited to:
(New) Technological Applications On STEM (Science Technology Engineering and Mathematics)
Coding and Computational thinking
Real-life Examples in STEM (Science, Technology, Engineering and Mathematics)
Applications of Mathematics in Virtual Reality.
Linking applications in Sciences and Engineering with Mathematics through Technology
Increase Mathematics Content Knowledge through Technology
Mathematical modeling through innovative use of technological tools
Mathematics Education using Information Communication Technology
Internet Technology for Mathematics
Applications using Dynamic Geometry software
Applications using Computer Algebra Systems (CAS)
Applications using Graphics Calculators
Statistics using Dynamic Statistics software
Applications by integrating Dynamic Geometry with CAS
Assessment of Implementation of Technology in Education
Implementation of Technology from K-12 to University Level
Development of the Computer Integrated Curriculum in Mathematics from K-12 to University Level
Mathematics Teaching, Learning and Assessment using Technology
Mathematics Research using Technology
Multimedia Learning in Mathematics
Creating Technology with Mathematics
Mathematical Applications and Modelling Using Information Communication Technology
Mathematics Educational Research Using Information Communication Technology
The Role of Information Communication Technology in Mathematics Teachers' Professional Development
e-Learning and Information Communication Technology for K-12 to University Level
Automatic problem solving and reasoning
Intelligent learning environment
The conference will consist of plenary, invited sessions, short paper, poster sessions, and hands-on workshops on software and hardware relevant to mathematical teaching. learning and research. Books, software and hardware may also be on display.
Tidbits of ATCM
(January 29, 2018) Experiences from some participants who attended ATCM 2017 can be found here.
(January 10, 2018) A nice article about Dr. Ang Keng Cheng's plenary talk at ATCM 2017 was featured at this article .
(October 27, 2017) A nice video clip by Mirek Majewski how Geometry is in action, click this link.
(December 24, 2016) We thank the local organizer (SSRU) and IPST of Thailand for making the ATCM 2016 a very enjoyable conference. The photo slide can be found at this link .
(January 4, 2016) ATCM 2015 was featured at a Chinese TV channel here.
(December 31, 2015) We have successfully accomplished the 20th anniversary of ATCM (ATCM 2015) with contributions from all parties. Thanks to the supports from local organizers, we had over 300 participants representing 22 countries and regions around the world. We give special thanks to our sponosrs HP, CASIO, TI, Professor Lin Qun of Chinese Academy of Sciences, Chinese Association of Mathematics Education, Capital Normal University and Chengdu Institute of Computer Applications-Chinese Academy of Sciences for making ATCM 2015 another enjoyable and instructive conference.
(December 31, 2015) Photo flash for ATCM 2015 can be found here.
We are proud to announce that ATCM has provided opportunities for the two co-hosts of ATCM 2015 to sign Memorandum of Understandings with the host of ATCM 2016 during December 16-20, 2015.
(December 8, 2014) Photo flash for the joint conferences ATCM 2014 and local joint sessions can be found here.
(December 8, 2014) Additional photos from ATCM 2014 reception provided by J.C. Chuan can be found at this link. Conference opening ceremony on November 27 can be found at this link. Conference dinner on November 27 can be found at this link. Activities on November 28 can be found at this link. Activities on November 29 can be found at this link. IPC meeting on November 29 can be found at this link.
(November 20, 2014) Prof. Widodo, Director of PPPPTK Matematika, hosted the Reception Dinner for all international participants and invited Speakers on 26 November 2014. A welcome card can be found here .
(December 15, 2013) We thank the hard work by LOC members of ATCM and TIME 2013 to make the ATCM 2013 a great success, we attracted over 250 participants representing 22 countries. Some photos privided by J.C. Chuan: Reception on December 7 .
(December 11, 2013) The second ATCM-Korea chapter will be held at Korea National University of Education, August 6-9, 2014.
(January 3, 2013) The video clip of invited speech by Jonathan Lewin can be found here .
(December 26, 2012) The ATCM 2012 Proceedings are available here .
(December 26, 2012) ATCM 2012 photo flash can be found here. More ATCM 2012 photos privided by J.C. Chuan: Reception on December 16 , Opening on December 17 , December 17 , Conference Dinner on December 17 , December 18 , December 19 , December 20 , and Closing on December 20 . If you have photos to share, please send them to Professor J.C. Chuan at `jcchuan@gmail.com'.
(December 23, 2012) Thanks to the hosting university of ATCM 2012 and IPST, we have attracted over 400 participants represnting 28 countries around the world. We finished another instructive and enjoyable conference. The Proceedings of 2012 is available online. See you at ATCM 2013-India and Happy Holidays.
(February 23, 2012) We have launched the printed version of eJMT- Research Journal of Mathematics and Technology .
(December 21, 2011) The first ATCM-Taiwan local chapter was successfully held at National Tsing Hua University from December 17-19, 2011. The photos: December 19 , December 18 , and December 17
(November 16, 2011) Dr. Yang assisted Linking Up University in Hradec Králové and University in Bangkok , click here
.
(September 27, 2011) ATCM 2011 Photo flash is available here . More ATCM 2011 photos privided by J.C. Chuan: ATCM 2011 Opening Photos . ATCM 2011 September 20 Photos . ATCM 2011 September 21 Photos . ATCM 2011 September 22 Photos . ATCM 2011 Culture Night Photos . ATCM 2011 Closing Photos
(September 20, 2011) Professor Dr. Wei-Chi Yang, founder of ATCM, announced the recipients of the Japan disaster relief fund he had launched in April under the name of ATCM. With responses from colleagues around the world and donation from Hewlett Packard calculator division, ATCM will contribute over 5,000USD in value to two universities, they are Tsukuba University and Tohoku University. Congratulations to these two universities.
(Japanese translation of ATCM 2011) この会議の情報を日本語で見る (翻訳会社Ulatusによって提供) 。
Highlights of the ATCM series
Selected refereed papers will be invited for consideration of publication at the Electronic Journal of Mathematics and Technology
(Updated on January 21, 2011) ATCM 2010 Reception YouTube , ATCM 2010 Opening YouTube , ATCM 2010 Conference Dinner YouTube , ATCM 2010 December 20-YouTube .
(January 14, 2010) The ATCM 2009 photo flash can be found here.
(June 28, 2009) Founder of ATCM and eJMT, Professor Dr. Wei-Chi Yang, was interviewed by Vivian Pal of EduWebTV.com, a talk show of the official Web TV for the Ministry of Education in Malaysia . The video can be found here .
The ATCM 2009 provided University Collaboration opportunity for the hosting Beijing Normal University and the University of Malaya-host of ATCM 2010.
(December 28, 2009) We finished ATCM 2009 with a blast, and attracted 410 participants representing 29 countries.
(December 28, 2009) Some ATCM 2009 photos can be found here
The ATCM 2008 provided University Collaboration opportunity for the University of Hradec Kralove of Czech Republic and the Suan Sunandha Rajabhat University of Thailand (host of ATCM 2008).
(January 15, 2009) Photo flash of ATCM 2008 can be found here . More ATCM 2008 photos contributed by JC Chuan can be found here .
(January 7, 2009) We successfully completed three live Maple workshops remotely on December 16, 2008, first time in ATCM history, by Douglas Meade (from South Carolina, USA) and Philip B. Yasskin (from Texas, USA) with assistance from Wei-Chi Yang (at ATCM 2008 in Bangkok) through internet conferencing.
The ATCM 2007 successfully provided opportunities for the Suan Sunandha Rajabhat University and the following universities from Taiwan during ATCM 2007 period: National Taipei University of Education (December 17, 2007), Chung Yuan University (December 19, 2007), Hsin Chu University of Education, and Chung-Hua University (December 18, 2007). We like to thank Drs. Yuan Yuan, Ming-Jang Chen, Ming-Gong Lee and Krongthong Khairiree for making all necessary arrangements.
The ATCM 2007 provided individual collaboration opportunities for Hitoshi Nishizawa of Japan and Lenni Haapasalo of Finland. Congratulations to both!
Complete photos of ATCM 2007 can be found here)
Selected photos with flash can be found here
Photos from Previous Conferences (prior to ATCM 2007) can be found here